Friday, January 31, 2014

Swedish heavy metallers KATANA will hit the ground running as they start the year 2014 with a major tour of Europe together with CIVIL WAR.

Since 2005 KATANA from Gothenburg, Sweden has helped popularize the NWOTHM genre of young bands playing classic heavy metal in the vein of bands like IRON MAIDEN, JUDAS PRIEST and MANOWAR. With a stage show complete with katana swords, spandex tights, double lead guitar solos and everything one would want from an early 80's metal show KATANA has made a name for themselves in classic metal circuits all over the world.

KATANA released their second album "Storms of War" last year and earlier this year the music video for the brand new song "Yakuza" became available exclusively on YouTube.

KATANA has played major open-air festivals like Wacken and Sweden Rock Festival as well as toured in central Europe and Spain. Now they are taking their wild and sweaty metal show to the stages of Poland, Czech Republic, Germany, Switzerland and Belgium.

" This is something we've been working towards for a long time and we´ve finally found the perfect set-up to take this show on the road for real, says KATANA.

We have a lot of fans in northern Europe who've been waiting to see us live for a long time and it feels great to finally be able to bring our show to them in a way that will meet their expectations. We are playing great venues every night and of course we are opening for a band that really knows what metal is all about. It´s going to be one hell of a tour!"

CIVIL WAR is a new heavy metal band formed from 4 ex-SABATON members together with former members of ASTRAL DOORS and LION'S SHARE. They had the following to say regarding the tour in February: "Civil War is extremely happy to hit the roads in February together with Katana. This is our first tour and we can't wait to get out and get the chance to perform the songs from our album "The killer angels" for the metal crowds of Europe.

We look forward to see you all out there and together with Katana we will form a combo that will hit you like a sledgehammer in your chest!"

Tour dates
2014-02-11Warszaw Poland Proxima
2014-02-12 Katowicze Poland Mega Club
2014-02-13 Prague Czech Republic Nova Chmelnice
2014-02-14Mannheim Germany Alte Seilerei
2014-02-15 Vosselaar Belgium Biebob
2014-02-16 Bochum Germany Matrix
2014-02-18 Nürnberg Germany Rockfabrik
2014-02-19 Pratteln Switzerland Z7
2014-02-20 Ludwigsburg Germany Rockfabrik
2014-02-21 RegensburgGermany Airport
2014-02-22Memmingen Germany Kaminwerk

Tickets and info: www.metaltix.com

www.facebook.com/KatanaOfficial
www.myspace.com/bladeofkatana
Posted by

Power of Metal.dk
at Friday, January 31, 2014
0 comments

Thursday, January 30, 2014

GOLEM
. This legendary and absolutely underrated band started back in 1989. In the 1990s they have released two of the best Death Metal albums ever, which have never been released on vinyl. Until now!



FDA Rekotz

is

re-releasing

both

"Eternity - The Weeping Horizons" (1996)

and

"The 2nd Moon" (1998)

.

Both albums were remastered by Andreas Hilbert (head of the band) and to top it of Mark Cooper has created new killer artwork. GOLEM are influenced by bands like CARCASS, DEATH or MORBID ANGEL and are surely on the same musical level. They never got the luck to be pushed by one of the big record labels at the time (early/mid 90s). They are still more or less active and the time has come to rise above and beyond, to show their great compositions to a wider audience.

Now it's time to re-release both hard to find albums for the first time ever on vinyl (2LP), as well as Double CD and for Download!

The vinyl will be limited to 100 transparent green and 400 rotten black copies, printed lyrics, old pictures and more than 80 minutes pure fucking Death Metal at it's best.
Double-CD, Double-LP and Download will be unleashed from the grave on

April 4th, 2014

!

The pre-sale starts on February 5th at the FDA Rekotz online Deathstore:
www.FDA-REKOTZ.com
Additional info about

"

Eternity-The Weeping Horizons

":
Recorded and mixed between August 27th and September 4th 1995
at Unisound Studio, Örebro.
Remastered by Andreas Hilbert 2013
Andreas Hilbert - guitars and vocals


Rico Spiller – bass
Michael Marschalk - drums
1. Throne of Confinements
3. In my favourite Darkness
9. Reflections of Eternity

Additional info about

"

The 2nd Moon

"

:
Recorded at Blue Art Studio, May 1998
Mixed at Sound Forge Studio, August 1998
Engineered by Andreas Hilbert
Mastered at Power Play Mastering by Ebehard Köhler
Remastered by Andreas Hilbert 2013
Andreas Hilbert - lead guitar and vocals
Carsten Mai - lead guitar
Michael Marschalk - drums
03. The Shortening of the Way
Wednesday, January 29, 2014

Posted by

Power of Metal.dk
at Wednesday, January 29, 2014
0 comments


Sound Of Contact are delighted to announce that Bill Jenkins will join Simon Collins, Matt Dorsey, Randy McStine and Ronen Gordon for their forthcoming Moody Blues Cruise / Cruise To The Edge and RoSFest appearances this Spring.

The renowned keyboard player is a member of the band Enchant, performing on their 2003 'Tug of War' and 2004's 'Live at Last' albums, both released by Inside Out. Bill also recently appeared on the 2013 Thought Chamber debut entitled 'Psykerion' and stepped in to perform with Spocks Beard at their shows in San Diego and Los Angeles last August.

"We are thrilled to have Bill with us for our up-coming live dates" Simon Collins was quoted as saying, adding "He came very highly recommended to Sound Of Contact and his talent was obvious to all when we first ran through the material." "The band is sounding fantastic in rehearsals and we are all excited to be out performing live for our fans once again in the coming months."

Bill Jenkins added "I'm very excited for this opportunity to play these upcoming shows with Sound of Contact - a great group of guys and awesome music!"

You can catch Sound Of Contact performing live April 2nd - 7th on the Moody Blues Cruise, April 7th - 12th on Cruise To The Edge and May 3rd at RoSFest.

The band recently premiered the video for new single 'Pale Blue Dot' on USAToday.com, but now it is available to view in all its glory here:
http://youtu.be/mVm4uc_zHmM

Sound of Contact online:
http://www.soundofcontact.com
http://www.facebook.com/soundofcontact
http://www.youtube.com/soundofcontact
Posted by

Power of Metal.dk
at Wednesday, January 29, 2014
0 comments


Kari Rueslåtten, founding member of the progressive doom metal band The 3rd and the Mortal, has announced a March 7, 2014 release date for Time to Tell, her fifth solo album, and first in eight years, via Despotz Records. Time to Tell can be pre-ordered now online at: http://despotz.bigcartel.com/artist/kari-rueslatten.
"The composing has been done by me sitting at the piano singing," commented Rueslåtten. "No drum-beats or co-composers this time! I wanted to go back to the core of songwriting. If the verse and chorus works just accompanied by the piano - it will work with other arrangements in studio too.
"What really triggered me to start making music again were all the kind messages I got from fans around the world asking me when new music would surface. I am most humble and grateful to find that there are people out there who have followed my music since my early beginning, back in The 3rd and the Mortal-days, and through all my solo albums."
Time to Tell
was recorded and produced at Øra Studio in Trondheim, Norway with Norwegian Grammy Award-winning producer Jostein Ansnes. The 11-track, all-acoustic album features guest musicians Jostein Ansnes (guitars), Rune Arnesen (drums), Trygve Brøske (piano and pump organ) and Eirik Øien (upright ba:ss).
To whet the appetite of fans around the globe, Rueslåtten launched a music video for the album's first single "Why so Lonely" on YouTube at: http://youtu.be/wA8l8QM0gow. "Why so Lonely" originally appeared on the 1994 The 3rd and the Mortal album Tears Laid in Earth, and has been rearranged by Rueslåtten with the help of Tuomas Holopainen (Nightwish) on piano and keys, Jostein Ansnes on guitar and Rune Arnesen on drums.
"I decided to look back in time and make a cover version of one of my favorite songs from the early years with The 3rd and the Mortal," added Rueslåtten. "In a way, it can be seen as a tribute to those who have showed interest in my music through so many years."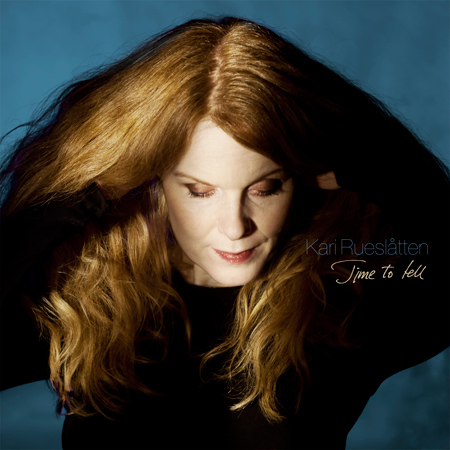 TRACKLIST
01. Time to tell
02. Hide underneath bridges
03. Hold on
04. Paint the rainbow grey
05. Rainy days ahead
06. Why so lonely
07. Shoreline
08. Waltz across the sky
09. Wintersong
10. Stay right here
11. Only you know
Rueslåtten's natural talent, combined with classical training and roots in the Norwegian folk music tradit
ion, has resulted in a voice that is difficult to describe. Her music has been compared with artists like Tori Amos, Kate Bush and Bjørk, maybe not necessarily because the music sounds very similar, but because of each artists' distinctive vocal delivery.
Stay tuned to www.despotz.se and www.facebook.com/kari.rueslatten.official for more information on Kari Rueslåtten.
Kari Rueslåtten online...
www.karirueslatten.com
www.facebook.com/kari.rueslatten.official
Posted by

Power of Metal.dk
at Wednesday, January 29, 2014
0 comments