Release:
White Widdow – Crossfire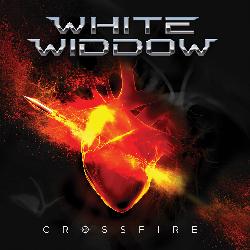 Formed in Melbourne, Australia in 2008 and centered around the Millis brothers Jules (Vocals) & Xavier (Keyboards) with Guitar virtuoso Enzo Almanzi. Raised on a healthy diet of 80's Arena Rock and influenced by artists such as Survivor, Dokken, Night Ranger, White Sister & Giuffria.



In 2010 White Widdow stormed onto the Melodic Rock scene across the globe with the release of their self titled debut album, filled with swirling keyboards, blistering guitar playing and big choruses. The release of the debut was met by the press with rave reviews making it into Classic Rock Magazine's top 10 AOR albums for 2010.

Hot on the heels of their debut, White Widdow quickly returned with their follow up release "Serenade" in September 2011. "Serenade" was heaped with praise by the press as one of the best albums in the genre of 2011, gaining 9/10 in both Classic Rock and Powerplay magazines and receiving a 94% on the coveted website melodicrock.com.
In support of "Serenade", White Widdow hit the road playing festivals and headlining club shows throughout Europe which saw them tour through Switzerland, Germany, Sweden, Italy, Greece and England. Along the way performing at HEAT Festival (Germany) and Firefest (UK). This was followed in 2012 with a full tour of the UK as support band to English melodic rock band TEN.

White Widdow had initially hoped to release their third album at the end of 2013, however 2013 proved to be a difficult year for the band with original bass player Trent Wilson retiring from the music industry and the unfortunate death of drummer George Kristy. Despite these set backs, in early 2014 the Millis brothers and Almanzi regrouped with a rejuvenated new line up, featuring Ben Webster on Bass and Noel Tenny on Drums. The band set about making their third album "Crossfire", which shows the band retaining their trademark keyboard driven Melodic Hard Rock. Showing at times a slightly more hard rock edge than on the previous albums, yet still drenched in melody and hooks. Produced & engineered by Xavier Millis and mixed once again by Pelle Saether (Grand Design), White Widdow are back with quite possibly their best album yet.
Tracklist:
1. Caught In The Crossfire, 2. Fly Me Away, 3. Just Another Night, 4. Below The Belt, 5. Dreams Don't Die, 6. Too Many Tears, 7. Angel, 8. Born To Be A Rebel, 9. Carry The Heartache, 10. Never Again
WHITE WIDDOW - Caught In The Crossfire (Edit)
WHITE WIDDOW - Fly Me Away (Edit)
WHITE WIDDOW - Just Another Night (Edit)